Posts Tagged 'Photo Archive News'

by Gwyn Headley
Managing Director
There was no BAPLA Picture Buyers' Fair this year. The lovely and redoubtable Flora Smith of Topfoto decided to do something about it.
With the help of Will Carleton of Photo Archive News she created fotoFringe. 55 picture libraries (curiously no Getty, Corbis or Alamy) piled into the plush King's Place development on a highly gentrified canal basin at King's Cross and prepared to tout their wares to the picture editors and researchers they hoped would attend.
And attend they did. I can't speak for other picture libraries, but at the show yesterday we had 58 — count them, 58 — fruitful meetings. (We would have had more had not at least three photographers managed to evade the armed guards and got to chew the fat over a leisurely few hours with us while we agonisingly watched trains of real live picture buyers, weighed down with credit cards and price agreements burning holes in their handbags, steaming past us. There's a time and a place etc etc and You Know Who You Are. No — we love you really. It's just that we went there geared up to talk to picture buyers, not sellers.)
I can speak for other picture libraries, actually. There wasn't a single voice of dissent. Everyone had a great day. It wasn't expensive (except for all the bars of chocolate we handed out to picture buyers) and in terms of cost per head per meeting it was perhaps the most successful expo fotoLibra has ever attended.
Let's do it again!
One interesting point (to me) is that 14 of our visitors had come to a trade show without bringing any business cards with them. Is it just me, or does that seem odd?
If you want to see more (and considerably better) images and read more about fotoFringe, here's a link to Photo Archive News's report for May 12. You can see fotoLibra's stand and Yvonne's and my cheery faces in the fourth image down.
Meanwhile my only quibble was that as we were in the second wave of bookings for the show along with 18 other picture libraries, our black felt-covered fotoLibra trestle table was placed below water level in the windowless basement. It was interesting to note people's reactions to the space: the under 25s said "This looks like an exam room;" the 25 to 60s said "This looks like a gymnasium;" and the over 60s said "This looks like a morgue." Ah, the preoccupations of age.
Here's the stand when we set it up: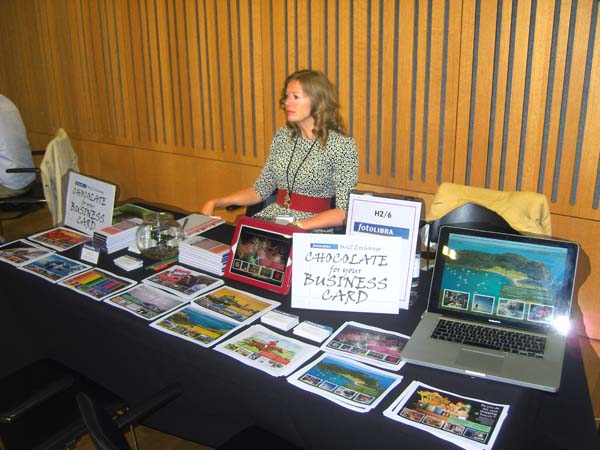 and here's the rest of the room (or The Morgue, as my age group called it).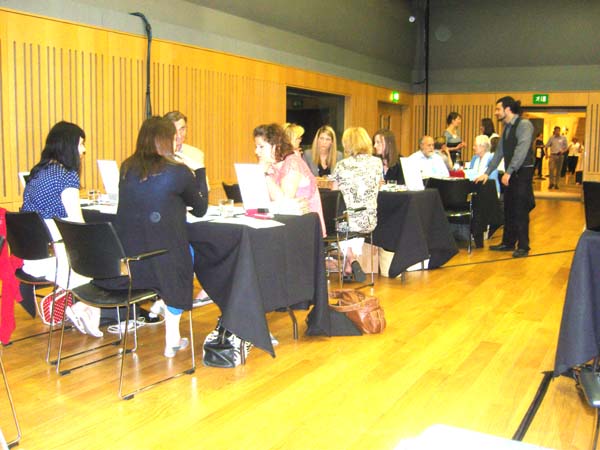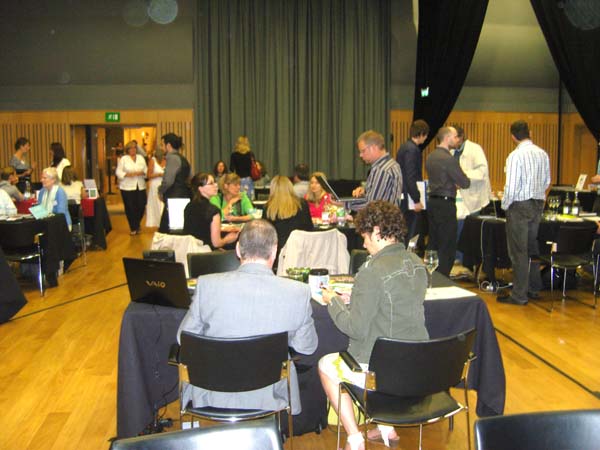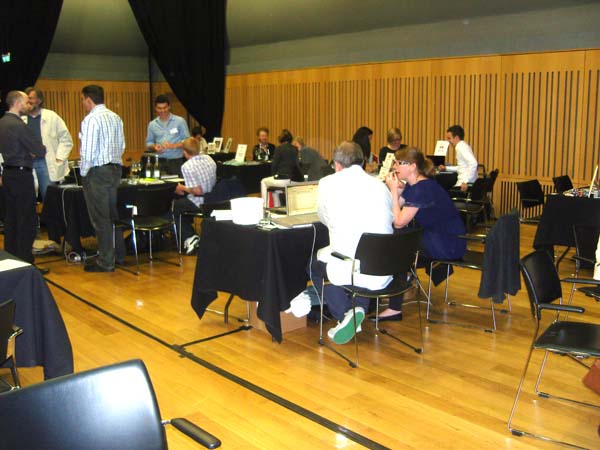 It really was a cheerful, positive, feelgood sort of event. Let's hope this leads to more sales for us all.

by Gwyn Headley
Managing Director
… if you don't want to see a particularly gruesome image of the assassinated Osama bin Laden.
I've put it at the bottom of this blog so you don't have to look at it without scrolling down, not for any vicarious pleasure, but for the simple purpose of showing what can be achieved with digital image manipulation software such as Adobe Photoshop (other digital image manipulation applications are available).
What purports to be the shocking photograph of the dead bin Laden which President Obama deemed too disturbing for public view has of course cropped up all over the place, mainly on right-wing conservative American websites. And they are truly scary (the websites, that is).
You will have read in previous postings on this blog that US courts do not allow digital photographic images as evidence because of the ease with which they can be manipulated. Actually as anyone who has battled with Photoshop will know, it's not that easy, but a truly skilled Photoshop artist can make it look simple — and realistic.
The image is indeed shocking — until you look at the image on the right.
On the left you will see a purported photograph of Osama bin Laden after he stupidly opened the door to some visiting American gentlemen. On the right you will see a much nastier image — Osama bin Laden alive.
Compare the two images.
Look at the angle of the head.
Look at his ear; look at the highlight inside it.
Look at the highlight on the tip of his nose.
Look at his mouth hanging slackly open, doubtless in the process of delivering some deranged spittle-flecked invective.
The images are identical, except that in one he appears to have met with an accident.
It's the same image. The one of the left has been Photoshopped — it's a completely fraudulent image. I'm not suggesting for a moment that this is the image that Barack found too disturbing to release; that one is undoubtedly real and I'm sure it's profoundly unpleasant.
But in lieu of having the real thing, some talented Photoshop artist has been employed to provide slaughter pron for slavering right-wingers. It's very good — until some clever chappie like David Hoffman unearths the original image.
Unless of course Hoffman has been even smarter and recreated the image on the right from the original on the left!
Now you can see why American courts don't permit digital images as evidence. The camera lies through its teeth.
Thanks to David Hoffman Photographs for putting the two images together, and for Will Carleton of Photo Archive News for bringing them to my attention.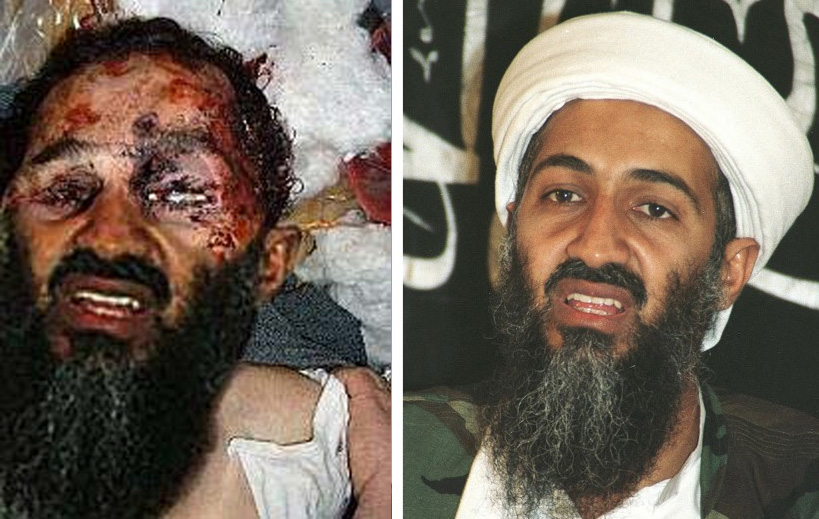 by Gwyn Headley
Managing Director
Tags
4 Corners
,
Alamy
,
Arcaid
,
Arenapal
,
BAPLA
,
Bridgeman
,
Camera Press
,
Corbis
,
Country Life
,
fotoFringe
,
fotoLibra
,
Getty
,
Heritage Images
,
Image Source
,
John Walmsley Education
,
marketing photographs
,
Mary Evans
,
Mirrorpix
,
Nature Picture Library
,
Photo Archive News
,
photography
,
Photoshot
,
picture library
,
Picture Research Association
,
picture sales
,
Robert Harding
,
Ronald Grant Archive
,
selling photographs
,
Specialist Stock
,
Splash
,
stock agency
,
Topfoto
,
View
,
WENN
,
Writer Pictures
When fotoLibra was just an ickle bitty new picture library we scraped all our pennies together and took a stand at the BAPLA Picture Buyers' Fair. We thought it crucial that we should hang out our faces in public, and meet all those radiant people who would (we were convinced) shortly be buying shedloads of photographs from our wonderful members.
It hasn't quite worked out like that, although we haven't done too badly. We're nearing half a million images online, which although it doesn't yet match the behemoths of Getty, Alamy, Corbis and the microstock rabble, is still a respectable amount of superb images.
So it was with sadness that we learned that BAPLA would not be holding a Picture Buyers' Fair this year.
Full marks therefore to the lovely Flora Smith of Topfoto who reasoned "If they're not going to do it, then we will". She hired a room and some trestle tables, called the event fotoFringe and invited a few friendly picture libraries to exhibit with her. "What a great idea," I thought, and emailed Flora to say "Count us in!"
No room.
It was by invitation only, and she'd filled it already. 21 picture libraries, plus media partner Photo Archive News, will be exhibiting at fotoFringe — but not fotoLibra. We're on the waiting list for a table, but we're not holding our breath. Of course we'll be there in person(s) (Flora said we could come), prowling round the room like hyenas and jackals, but we won't be sitting at the top table.
Sleepless nights haven't resolved the question of why Flora and Will Carleton of Photo Archive News didn't think of us when choosing 20 picture libraries to exhibit with them (is it my tendency to dribble? my flatulence? my general nastiness?) but there we go. We will just sit on the sidelines and wait.
fotoLibra strongly supports the idea of fotoFringe, and hopes that every picture researcher worth her salt will attend, despite the formal absence of fotoLibra, Getty, Alamy and Corbis. There's a website for the event at http://www.fotofringelondon.com, and it takes place on May 11th at the spiffy new Kings Place venue just north of King's Cross. See you there!
One thing the fotoFringe website doesn't do is link through to the exhibiting agencies' websites so you can see what they offer, so as a service to picture buyers I thought fotoLibra could contribute that here.
And rather than list the libraries conventionally in alphabetical order, I've listed them in the order they appear on Alexa, the website ranking index standard, to see how close they get to Google, Facebook and Youtube. The lower the number, the more people visit the site.
Although fotoLibra isn't exhibiting at fotoFringe, it would be invidious to leave my own company out of any listing. So here we go:
| | | |
| --- | --- | --- |
| LIBRARY | SPECIALISM | TRAFFIC RANKING |
| Wenn | Celebrities | 44,438 |
| Splash | Celebrities | 90,218 |
| fotoLibra | General | 149,195 |
| Image Source | General | 307,297 |
| Bridgeman | Art | 312,278 |
| Heritage Images | Heritage | 367,724 |
| Photoshot | General | 386,375 |
| Topfoto | General | 442,985 |
| Robert Harding | Travel | 581,251 |
| Photo Archive News | Trade News | 824,236 |
| Nature Picture Library | Nature | 940,390 |
| View | Architecture | 1,179,000 |
| Camera Press | General | 1,904,000 |
| Picture Research Association | Industry Body | 2,080,000 |
| Mary Evans | History | 2,138,000 |
| Arcaid | Architecture | 2,216,000 |
| Mirrorpix | News | 2,424,000 |
| Country Life | Heritage | 2,667,000 |
| 4 Corners | Travel | 3,590,000 |
| Specialist Stock | Environment | 7,590,000 |
| Ronald Grant Archive | Cinema | 8,012,000 |
| Arenapal | Performing Arts | 9,170,000 |
| John Walmsley Education | Education | 22,800,000 |
| Writer Pictures | Authors | no data |