Archive for February, 2011

by Gwyn Headley
Managing Director
That's the headline that greeted me when I opened the BBC Home Page just now.
I clicked on the link and I found this.
Mixed emotions, I guess. This is the drum we've been beating since we started fotoLibra in 2004, and the media — even the photo press — has steadfastly refused to listen to us.
In desperation we appointed a slick London PR agency, and last week they got us this great feature on the BBC Leeds website.
But the people who place the stories where it matters — on the BBC's Home Page, for crissake — know nothing about us, despite our daily bombardment of letters, emails, flowers and phone calls.
They'll write all day about American web sites, but they can't believe that there's a British company which would be doing as well as Flickr or Facebook or Picasa or any of the others if we could only receive the same level of international coverage. National exposure would be good. We're even pathetically grateful for snippets of local coverage.
Facebook has had a movie made about it, already, So, fotoLibra: The Movie. I can see it all now. Obviously Brad Pitt would have to play me, Keira Knightley Yvonne, Daniel Auteuil would play Damien, Llinos's part would be Uma Thurman, Graham is Colin Firth, and Jacqui? What about Quentin Tarantino?
Why was I looking at the BBC Home Page when I should have been working? Well, I hate to admit it, but we've had a little problem with the fotoLibra site, and although it can be seen and used, members and buyers can't log in at the moment. There's some sort of corrupted data table; we're working to restore it and we expect the website will be up and running again by the time you read this.
Apologies if you've been affected by any of the issues raised in this blog.


by Gwyn Headley
Managing Director
No, this is not a complaint I suffer from, but a situation has arisen at fotoLibra which we'd like to sort out.
Here's a new title from the highly regarded travel publisher Bradt Guides, who publish guide books for Serious Travellers, not tourist lubbers like me.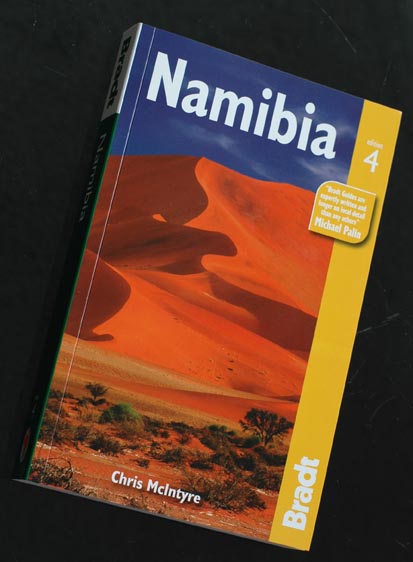 Notice the cracking front cover image which fotoLibra sold them. It's always good to get a front cover sale, not just for the money but also the prestige, especially by being associated with an imprint such as Bradt.
The evocative photograph of "Dune 45" was taken by fotoLibra member Tjaart van Staden. We emailed him the good news and he took it very calmly.
So calmly in fact that he didn't respond. So we emailed him again. No reply.
We wrote to him. A real letter, with a stamp. No answer.
We checked his website. It had been taken down.
Now Tjaart van Staden is not a common name in Wales, but it may well be in Midrand, Gauteng, South Africa, where Tjaart abides — or abode.
We tried again and again, but we can't find him.
So we can't pay him.
I'm putting this blog up in the hope of tracking him down. If Tjaart ever succumbs to the old ego trip of Googling his own name, he'll find this blog post and get in touch with us. But in case there's a whole band of Tjaart van Staden impersonators out there, just be aware that a) there'll be some questions asked to establish his identity and b) don't put the deposit down on the Maserati just yet Tjaart, because the payment won't cover it.
Hello, TJAART VAN STADEN, formerly of MIDRAND, GAUTENG, SOUTH AFRICA — please contact fotoLibra, where you will hear some news to your advantage!